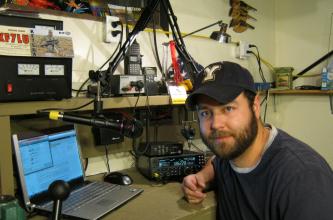 Coming up: 2017 April (SSB) Rookie Roundup!-
The next Rookie Roundup will be Sunday, April 16, using SSB.
• You can be a Rookie if you were first licensed in 2017, 2016 or 2015 – send the year you were first licensed in the exchange.
• Starting in April, if you were licensed before 2015 you can also be a Rookie if you made your first Amateur Radio contact during 2017, 2016 or 2015 or if you haven't made any contacts on the contest mode (SSB, CW, or RTTY) before the Rookie Roundup contest, send the current year (2017) in your exchange – either of these reasons qualify you as a Rookie for just one year.
• Rookies will attempt to make as many contacts as possible during this 6-hour event. Rookies work everyone – and non-Rookies work only Rookies.
This is a great way to try out contesting in an event designed for newcomers.  Hope to work you then! To pre-register teams or submit your score after the event, please visit the Rookie Roundup page hosted by Bruce Horn, WA7BNM.