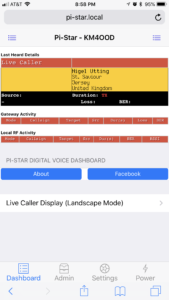 I found a very good video that shows how to add a mobile dashboard to your Pi-Star Hotspot, this is very good for those that use their Hotspot while mobile either by connecting to your phone's hotspot for an internet connection or purchase a Hotspot from Verizon or At&t. So let's get started!
First, connect your Hotspot to your home/office network and open your browser of choice on your computer, then navigate to https://pi-star.local/admin/expert/ssh_access.php after this go ahead and log in with your credentials, the default credentials are "pi-star" as the username and "raspberry" as the password after this run the following commands.
rpi-rw
sudo wget -O /tmp/pi-star.mobile.install.sh https://www.w0otm.com/pistar/pi-star.mobile.install.sh
sudo chmod 555 /tmp/pi-star.mobile.install.sh
sudo /tmp/pi-star.mobile.install.sh
sudo rm -r /tmp/pi-star.mobile.install.sh
Then after this has been completed, navigate to the "update" tab, this will take the RPI back to Read Only (RO)
Once this has completed you can navigate to the https://pi-star.local/mobile on your phone and access the Mobile Dashboard.
Right Menu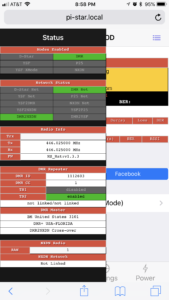 Left Menu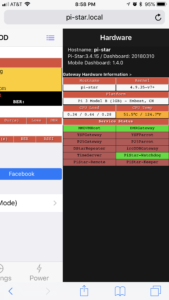 Landscape Mode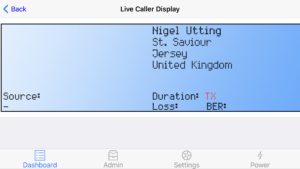 Taking it a step further for those with an iPhone:
1st Launch the Safari Browser
2nd Navigate to pi-star.local/mobile
3rd click on the Box with the up arrow icon
4rth on the bottom selection screens were you see Copy | Add to Reading List | Add Bookmark | Add to Favorites | Open in News, click on "add to Home Screen" edit the name of it and Voila! You have an icon on your home screen that you can open when you are mobile with your Pi-star device as I have mine in my car and you can check and make changes while mobile.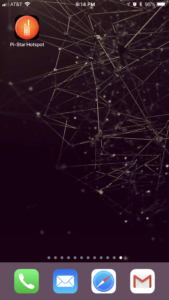 Credit goes to WOOTM for creating such good work!
DISCLAIMER: Install at your own risk! This addon is NOT supported by Andrew Taylor I have worked Andrew Taylor and following these instructions will not break the update process This addon does NOT require admin rights, so use at your own discretion.